WILD FLOWER ARRANGEMENTS (2015)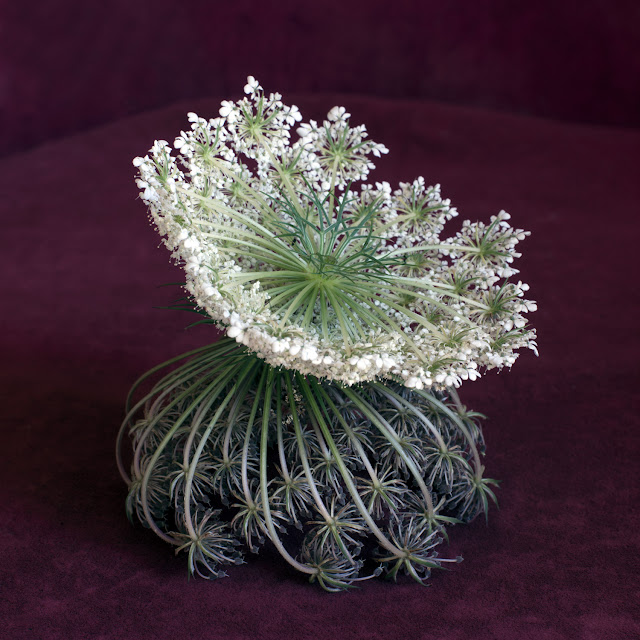 Wild Flower Arrangement No. 1 (Daucus Carota)
Size: 39.3"x39.3" image on 43.3"x43.3" sheet
Medium: Archival Pigment Print on Hahnemühle Cotton Rag
Edition: 5+2AP
Daucus Carota, wild carrot, bird's nest, bishop's lace and Queen Anne's lace, so named as the red flower in its center is thought to represent a droplet of blood, where the wife of Kings James I pricked herself while making lace. Another story refers to the earlier Anne Boleyn, the beheaded wife of King Henry VIII, the white flower representing the lace around her neck and the red center, the point of decapitation.
These wild flowers, found at the side of agricultural fields and roadside ditches were once popular as a contraceptive for women, and simultaneously in ancient ritual and spells, to increase sexual potency in men.
Helen Sear's Wild Flower Arrangements show the flower heads of Daucus Carota, at different stages of maturity—which often display at the same time on the same stem—and have been cut and rearranged in unnatural configurations, as constructed portraits. The complex beauty of the weed that thrives in wasteland, is heightened by its isolation within an interior space, reminiscent of the opulent surroundings of society portraiture.
Please contact Debra Klomp Ching for purchase inquiries.