During June—August 2010, we exhibited a new series of photographs by our gallery artist,
Elaine Duigenan
, entitled
Micro Mundi
. In this intimate series of images, she has photographed the arterial wanderings of snails, as they graze upon algae, leaving behind an aftermath of claw-like patterns—caused by the rasping action of the snail's spiky tongue.
Orbis Atlantis from the Micro Mundi series. © 2010 Elaine Duigenan
On a micro level, these rambling, chaotic and protracted patterns, attest to a seemingly plodding yet vigorous life-form. On a macro level, they're dendritic appearance resemble earth's estuaries as viewed from far above. By presenting the images within a circular frame, these stunning monochromatic photographs are transformed into floating planets, as we would imagine them to be on a cosmic scale. The planetary metaphor is further enhanced with titles that refer to cartographic terms of old, that placed Earth in a philosophical and religious setting.
Prior to their completion and exhibition, an image from Micro Mundi was launched into space on Shuttle Atlantis on November 16th 2009.
This came about as a collaboration with
Astronaut Leland Melvin
, who was so taken with the ideas in the work, that he offered to carry an image on the mission and photograph it in a window of The International Space Station. Below is Elaine Duigenan's photograph,
Orbis Atlantis
, in the The Kibo Lab and photographed by Leland Melvin to connect with the Earth (see the Amazon River).
Mission STS-129. 171 orbits round the Earth, 17,500 mph, distance 4,490,138 miles. Image © 2009 Leland Melvin/NASA.
As we write, Space Shuttle Atlantis is completing its final mission. You can own both a small piece of its illustrious legacy and an exquisite photograph by a talented artist. Orbis Atlantis is available for purchase through the gallery in two editions.
14" diameter, 24"x20" sheet (Edition of 5, 2 AP's), Availability: 2 & 1 AP
18.5" diameter, 32"x24" sheet (Edition of 2, 1AP), Availability: 2 & 1 AP
Medium: Pigment Print on Hahnemühle Cotton Rag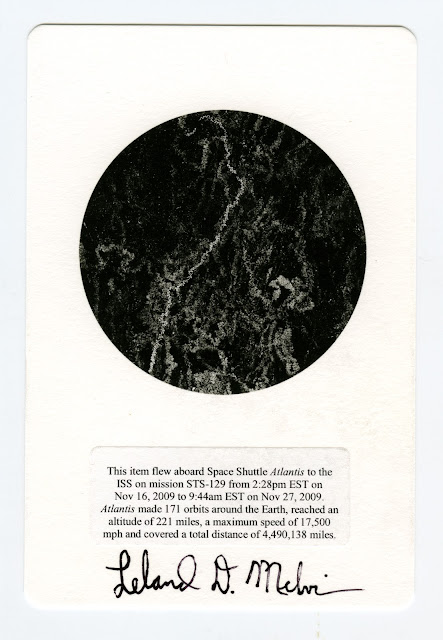 A copy of the above certificate accompanies each edition of Orbis Atlantis.