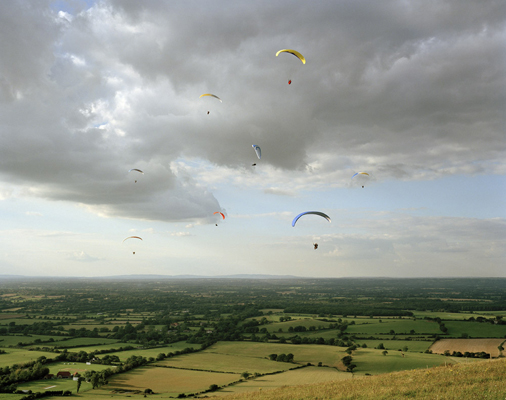 South Downs Way (2008) ©Simon Roberts
We are so pleased to announce that gallery artist, Simon Roberts, has five photographic artworks included in the group exhibition
Landmark: The Fields of Photography
at Somerset House (London), opening on March 14th.
Below, is an extract from the exhibition statement:
"Today the environment is at the heart of everyone's concerns: rising sea levels, desertification, deforestation, the melting Poles and retreating glaciers, extinction of species on land and in sea, pollution of myriad forms, and many other ills trouble our minds on a daily basis.
Photographers are our eyes and ears, bringing the facts of what is happening to Planet Earth to our attention in insightful and eloquent ways. From straightforward, even brutal documents, through pithy and ironic commentaries, to poetic and enigmatic visions, many of the best photographers working today travel the world (or simply stay at home) looking around them at the 'marks' humans have made and are making on the land ...
It can even be argued that 'landscape/environment' is the most important and vital genre in contemporary photography, and it is no coincidence that the most notable names in the field today are associated with it: Mitch Epstein, Nadav Kander, Ryan McGinley, Robert Adams, Simon Norfolk, Hiroshi Sugimoto, Lee Friedlander,
Simon Roberts
, Toshio Shibata, and Robert Polidori number among the masters featured in the show.
To this group are added brilliant emerging talents: Pieter Hugo, Raphael Dallaporta, Michael Najjar, Olaf Otto Becker, Penelope Umbrico, Harry Cory Wright and a number of younger practitioners who have already left their own indelible 'marks' on landscape photography.
The exhibition is curated by William A. Ewing, the noted photographic curator and historian. As the author of many books and the curator of hundreds of exhibitions in Europe and the Americas over the past forty years, Mr Ewing brings a wide-ranging knowledge of the field and an acute eye to bear on this important and timely subject."
Landmark: The Fields Of Photography
Somerset House (London), March 14 – April 28
Curated by William A. Ewing