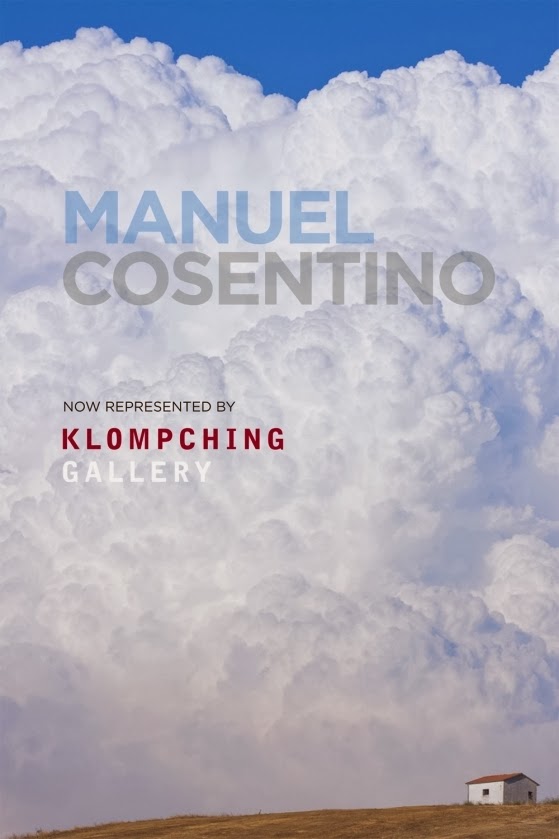 We are delighted to announce the representation of Italian artist, Manuel Cosentino.
The Behind a Little House series was exhibited at the Klompching Gallery, as part of its annual summer exhibition, in which the gallery exhibits new and fresh work by emerging artists. In his first major body of work, Cosentino's thoughtfully observed variations juxtaposed with a static landscape, are exquisitely made photographs connecting his subject with the human condition through color, space and minimalism.
Photographed over a two-year period, the eight photographs that form the series, depict a nondescript house—located on a hill in a non-disclosed location—with the changing wild and dramatic weather patterns serving as the backdrop. The modestly-sized photographs are nothing short of breathtaking, while at the same time being quiet and understated. Touching upon the themes of universality of home and of 'our' place in the world beneath one sky, Cosentino has left the narrative open, so that the viewer can bring their own story to bear on the photographs. Embraced by audiences world-wide, the Behind a Little House has been featured in numerous online and print publications including Le Monde and The Huffington Post.
MANUEL COSENTINO (b.1980, Italy) studied at the Istituto Europeo di Design in Rome, before moving to London where he worked as a visual effects artist in the film industry. After contributing to several movies, including Harry Potter and The Order of the Phoenix and Narnia Prince Caspian, he returned to Italy to focus solely on his fine art photographic practice. Cosentino's work has been shown at Galerie Huit during the Les Rencontres d'Arles, the Museo Diocesano Francesco Gonzaga (Italy), Museo Civico G. Fattori (Italy), Royal Photographic Society (London), NoFound Photo Fair (Paris) and the Photo Center North West (Seattle). In 2013 he was awarded the Premio Combat Prize (Livorno, Italy).
His work can be found in the permanent collection of the Bibliothèque Nationale de France, as well as several private and corporate collections in Europe and the US.