Photofestival Knokke-Heist 2014
March 30–June 9, 2014
We are very pleased to announce the inclusion of Jim Naughten's Hereros series in the 2014 installment of the Knokke-Heist photography festival in Belgium.
A selection of photographs from the Hereros series have been curated into the outdoor exhibition, entitled Haute Afrika,
with one of the Naughten's photographs featured on the cover of the exhibition catalogue.
The festival website can be found here.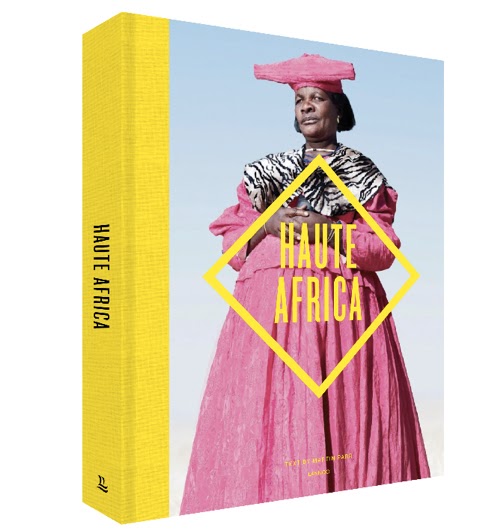 "The title of this year's outdoor exhibition, 'Haute Afrika', does not refer to a geographic region on the African continent, but to 'Haute Couture', or the art of creating custom-fitted clothing. We Westerners commonly associate this with big cities such as London, Paris, Milan or New York and consider haute couture to be the epitome of fashion. By incorporating Africa in this traditionally French concept, we arrive at a word combo which defies the imagination. "Haute Afrika", a place where creativity contributes to prosperity.
Here you won't see photos of violent revolutions, dried out deserts or poverty. Instead this outdoor exhibition features photos of the creative inhabitants of this great continent, who showcase their sense of entrepreneurship and their "passion for fashion".
The photo festival zooms in on the work of photographers who communicate a multi-tiered message about African society through its fashion culture. "Haute Afrika" presents a specific type of image, with social, political and economic implications. By showing work by foreign artists who visited the continent, as well as photos by African photographers, "Haute Afrika" chooses to highlight different perspectives".—

Festival Statement.
The Hereros series was first shown at the Klompching Gallery in March–April 2013, featured by the gallery at the 2013 AIPAD Photo Show and published as a monograph by Merrell Publishers (2013). Read about a museum acquisition from the series here, and a current museum exhibition in which one of the photographs is included here.
Jim Naughten's Hereros series can be viewed online, and if you have an interest in acquiring photographs, please contact the gallery for the PDF catalogue.