SAVE THE DATE: Artist Reception, January 9 6pm–8pm
Please join us on Saturday, January 9th at 6pm, when we kick-off the 2016 year with an exhibition of outstanding new work by gallery artist, Cara Barer.
Trekking, 2015 © Cara Barer
The artist's creative process includes the transformation of outdated, abandoned and obsolete books into coiled, crumpled and sculptural objects. Following this labor-intensive reconfiguration, she photographs them and present the final artworks as large-scale pigment prints – lush in color, highly detailed and impressive.
Through this process of re-imagination, the books segue into a carefully considered commentary on their changing role of how society accesses and values knowledge in a technologically advanced context. Ultimately, Barer's work questions the value of the book itself.
"I transform books into art by sculpting them, dyeing them and then through the medium of photography presenting them anew as objects of beauty. I am attempting to blur the line between objects, sculpture, and photography. The way we choose to research and find information is also in an evolution. I hope to raise questions about these changes, the ephemeral and fragile nature in which we now obtain knowledge, and the future of books."—Cara Barer
With this new series of photographs, Barer expands her attention to include cartography. Using maps as the primary source material, she paints, rips and tears them before binding them into a book form and resulting photograph. As with the status of books, she calls attention to the increasing obsolescence of traditional paper-based maps, in a world easily travelled with GPS.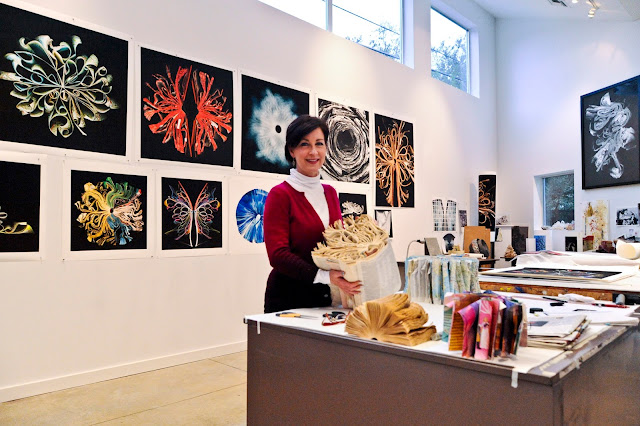 Cara Barer pictured in her studio © Cara Barer
Cara Barer (b. 1956) lives and works in Houston, Texas. She is a graduate of the Art Institute of Houston, the University of Houston and the Galssell School of Art. Barer has been represented in numerous exhibitions across the US, and has had her work reproduced in several publications, including Art Made From Books: Altered, Sculpted, Carved (Chronicle Books, 2013). Collections holding her work include VISA, UCLA Special Collections, Danielle Steel, Bloomingdales, Lehigh University, Nordstrom's Nationwide, Wells Fargo Bank and Museum of Fine Arts, Houston, among others.